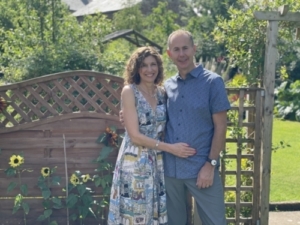 Carole and Simon Higginbottom
We moved to Dufton in 2013 from Warwickshire with our 2 sons.  Since then we have been joined by a border collie, Nell.
Between us we have over 50 years of hospitality experience, with Carole having worked as Cabin Crew for British Airways from Birmingham and Heathrow, and Simon in 5 star hotels, including the Intercontinental Hotel Hyde Park Corner, and then Mitchells & Butlers.
In November 2016 Storm Angus hit the UK and started stripping slates off our old barn and throwing them across the garden.  This gave us the impetus that we needed and, having a love of interior design, we started designing and planning our new holiday let from a blank canvas and with the Steven Brown McCoo picture, that now hangs in the hall of the barn, for inspiration.  The Shepherds View build started in the October of the following year, finally opening at the end of May 2018.  Anything we could do ourselves we have done, including Carole making all the curtains, and we continue to maintain the property ourselves to this day.
We have tried to think of everything you will need to have a fantastic holiday, from the perspective of what we would need or want to have on holiday ourselves.  We live next to Shepherds View and carry out all the cleaning ourselves, which means we are also on hand to greet you on your arrival, and are usually only a door knock away from being able to provide help or advice with the barn or where to walk or visit – but only if you need us as your privacy is important to us!  We aim to have visited or have personal experience of every place we recommend, and our goal is to provide you with the backdrop for a memorable break, whether you plan to explore, to be restful or romantic.  In July 2022 we were delighted to be recognised for our efforts by winning the Cumbria Tourism Award 2022 for Self-Catering Accommodation of the Year.
The Pennine Potting Shed is our second holiday accommodation, geared mainly at Pennine Way walkers.  We opened in May 2022 after 6 months of extending and developing the former Potting Shed in the corner of our garden. Again, we have tried to stamp our personal touch on this accommodation, with comfort and attention to detail our priority.
Carole originally trained in Horticulture and she has used these skills to create beautiful private cottage gardens for both properties, which our guests can enjoy during their stay.
Many of our guests have returned time and again, as each season offers something different and one visit isn't enough to appreciate all that Dufton and the surrounding area has to offer in this beautiful and quiet part of Cumbria.
We hope you enjoy your stay with us and we look forward to meeting you.