It may not have the size of Windermere but Ullswater, as the second largest lake in the Lake District, could be said to have much more to recommend it.  Surrounded by stunning mountain scenery it's 7.5 mile length makes it much more compact, meaning that with a little footwork it isn't difficult to get magnificent views through gaining some height.  Not that walking is the only way of getting great pictures.  There are several key stopping off points including the villages of Glenridding in the South, Aira Force, and Pooley Bridge in the North, and there is no better way to see the lake than by being on it with the various options on offer.
Pooley Bridge
At the northern tip of the Lake, Pooley Bridge is only 25 minutes drive time from Shepherds View, making it a great day out without having to venture too far into the busy Lakes.  For many this is the starting point of any Ullswater adventure and there are good options for food and drink dining out in the village.  Highly recommended is a visit to Chestnut House, o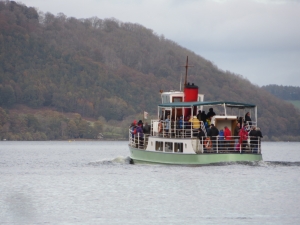 pen 7 days a week, which is an eclectic food and drink emporium, specialising in all things Cumbrian, but also carrying over 400 gins, whiskies, rums etc. – in fact something for every taste.
Pooley Bridge is also the main starting point for Ullswater Steamers, which is an award winning Lake District attraction with over 160 years of operating cruises across the Lake.  Here you can choose to connect to some of the most iconic walking routes in the Lake District or simply enjoy the view across the Lake as you sail to Glenridding and back.
If you are looking for a more personal lake experience then by heading down to the shore-line you will find Lakeland Boat Hire, who rent out a range of motor boats, rowing boats and Canadian canoes – no experience necessary.  Similarly, based at Another Place Hotel, Ullswater Paddleboarding offer lessons, adventure tours and board hire for those looking to get really close to the water!
Aira Force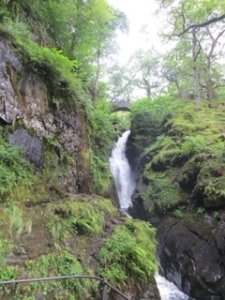 The main road from Pooley Bridge to Glenridding skirts around the western shore of the lake.  No visit to Ullswater would be complete without a visit to the most famous of Lake District waterfalls at Aira Force.  Owned by the National Trust the site offers a glimpse of a landscaped Victorian park and arboretum, which was begun in 1846.  There is a lovely circular walk through this woodland, but the beauty of this place is that it is especially great to visit when it is raining as you will see the waterfall at its best!  William Wordsworth is also supposed to have written his most famous poem 'Daffodils' after a walk along this part of Ullswater.
Walks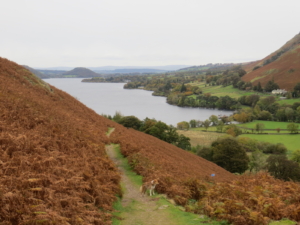 There are many lovely walks across the Ullswater area, but 2 of our favourites are at Hallin Fell and along the Ullswater Way.
Hallin Fell lies just above Howtown on the eastern edges of Ullswater.  Parking is limited, but getting there early enough allows you to park at St.Peter's Church, although you could come by steamer.  The walk then takes you down to the shore in an anti-clockwise direction, before ascending back around to the top of the fell for glorious views across the lake and to the surrounding fells.
The Ullswater Way is a 20 mile route around the lake and has various stopping off points for bus and boat so that you don't have to do it all in one go if you don't have the appetite.  Our recommendation would be to walk along the Howtown to Glenridding section, which is roughly 7 miles, with stunning views of the lake and fells along the way.  Depending on where you park you will need to use the steamer for one half of your trip – our recommendation would be to use the steamer first so that you are walking back to your car without any timetable deadlines!
Glenridding
At the southern end of Ullswater the village of Glenridding is a popular starting off point for walkers going up England's third highest mountain Helvellyn.  However, if you are looking for a more sedate experience then you can browse the shops and even visit the 2 rosette Inn on the Lake Hotel for afternoon tea or drinks in its grounds.  Similar to Pooley Bridge this is a stopping off point for the Steamer and you can also hire boats from St.Patrick's Boat Landing.
https://duftonbarnholidays.co.uk/wp-content/uploads/0201/09/Things-to-Do-Near-Dufton.jpg
400
800
Dufton Barn
https://duftonbarnholidays.co.uk/wp-content/uploads/2017/11/Dufton-logo-300x96.png
Dufton Barn
2021-06-12 19:30:49
2023-06-19 11:44:05
Exploring Ullswater and the Surrounding Area